DigitalMediaFestival.com

and the

StudioClub.com

takes you to the 2014

CONSUMER ELECTRONIC SHOW

We were in Las Vegas and will

take you to AFTER THE FUTURE
The 2014 International CES® opened with a record breaking show with more than 3,200 exhibitors across the largest show floor in history – more than two million net square feet of exhibit space – breaking last year's previously set record of 1.92 million net square feet. Innovation and the promise and power of technology drove this year's preshow press events that kicked off with CES Unveiled LAS VEGAS on Sunday night with 99 tabletop displays where exhibitors provided a sneak preview of their show floor product launches. Twenty five exhibitors then revealed new products during CES Press Day on Monday.
| | |
| --- | --- |
| Virtual Beam us from Silicon Valley to the Exhibit Hall in Las Vegas... | See more on the video to left |
Wearables are a key component of Intel's vision of the connected future. Throughout his address, Brian Krzanich, the new Intel CEO announced several partnerships with creative industries like fashion, animation and gaming. Together with Barneys, Opening Ceremony and the Council of Fashion Designers of America, Intel is working to promote wearable devices in fashion. Krzanich also announced that its latest chip, Edison, part of its Quark family of SoCs, will feature "a full Pentium class PC in the form factor of an SD card." This ultra-low power, 22nm Dual Core SoC can be used to power wearable devices. "We're creating a network of devices, all smart, all coming together, all powered by Edison," he said.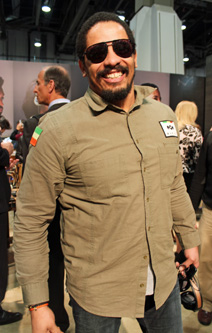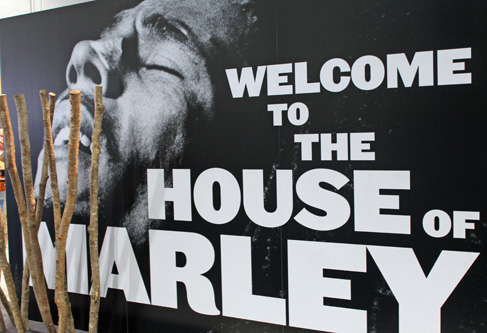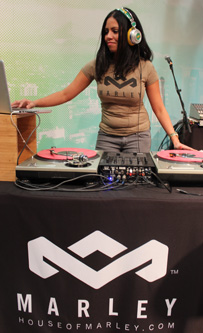 "Because we're about the lifestyle," Rohan Marley says. "What we have is an extension of expression ... We keep that relationship with our people, our father's fans." He adds, "My father has a movement that started before us. As his children, we are just the stewards to build on his foundation." This is the House of Marley's 4th year at CES...they want to stay tuned to the technology trends and be part

of the change of music...
CES TechZone Eureka Park at the Venetian was high energy with

venture capitalist, start ups, entrepreneurs, investors and more...

So many ways to carry and shoot video and pictures, from drones to mounts

on helmets, bikes, boats and your body...so much about taking pictures in

all-ways and all the time...record and photograph your life...the number of

filmmakers and photographers are at historic proportions...
The Futurecast Keynote featured panelists John Donovan of AT&T, Qualcomm's Paul Jacobs and Ericsson's HansVestberg who collectively discussed the power of mobile in today's world, and the future of wireless networks. All three panelists stressed the importance of mobile as a platform for creation. "When you give consumers the freedom to use bandwidth, they'll use it," said Donovan, "the phone is the remote control for your life." Donovan said that AT&T is becoming more of a software-oriented company focused on users, and enabling content creation. Efficiency was also a hot topic (both power and spectrum efficiency). "When we think about the Internet of Everything, we want these sensors to be very low power," said Jacobs as he discussed wireless charging, explaining that the Formula-E racing circuit will use wireless charging, first for support cars, then eventually for the electric Formula-E cars themselves. Vestberg predicted that in the next three to four years, small cells to help handle 4G traffic (both indoor and out) will be prominent.

dd
| | | |
| --- | --- | --- |
| David Karp founder of Tumblr | The proliferation of second screen tablets and smartphones is giving programmers, operators and marketers a new way to reach viewers. The Second Screen SuperSession included panelists from Sony Home Entertainment, PGA Tour, Crispin Porter + Bogusky and NBCUniversal. Moderated by Guy Finley, executive director, MESA/2nd Screen Society the group discussed how adding a companion "little" screen experience to programming can make the "big" connected screen even bigger. Panelists reported having to work hard to find the right formula to deliver additional content and coordinate two screens...MULTIMEDIA...MULIT-EVERYING... | |
SONY PRESS CONFERENCE

THE NEXT BIG THING

VOICE RECOGNITION

iOS 7 is getting better...Android's voce command feature is also getting better. This is important because while it may

be awkward right now, voice is a far

more natural manner for humans to interact with computers for many form factors and uses cases than type and touch...Important implication of Google Glass is the introduction of a completely new computing platform where the primary interface is voice. As wearable computers become more common,

voice-based interaction will become necessary given the lack of input options in small form factors.

Aaron Shapiro of Huge
MOBILE WIRELESS TECHNOLOGY,

THE CLOUD AND BROADBAND ARE CONVERGING TO SPUR INNOVATION

AND TRANSFORMATION BUSINESS

AND SOCIETY

"Wireless is making Internet usage "explode," said John Donovan, AT&T technology and network operations senior VP...Ericson

CEO Hans Vestburg said, "Innovations spurred by mobile and networked tech-

nologies will be needed to create smart

cities "if this planet is going to survive."

"For me, the paradigm of the objects of tomorrow is the following: Electonics + Softward + Consumer + Cloud + Apps. Parrot's Henri Seydoux

TOYOTA: HYDROGEN FUEL-CELLS CARS ARE

COMING ALONG WITH DRIVERLESS CARS...

THE AUTOS AT CES WERE MIND BLOWING!!
wearable technology

SMART WATCHES...SMART TVs...SMART CAMERAS...SMART EVERYTHING and THE INTERNET OF THINGS WEARABLE AND

PICTURE AND FILM EVERYTHING...

As described in one product..."The wearable device will be able to record data about your activities, movement, and

health and display the information in a LifeLog app, on your iPhone. One device can send the electrocardiogram to a

smart phone and the EKG can be forwarded to a physician

for a remote heart monitoring.

Pebble Smartwatch the famous Kickstarter project that

raised over $10 million in 2012 was great example of this

huge growing trend...
Copyright © 1998-2014

Buffalo Benford Productions, LLC

StudioClub.com

ALL PHOTOS ARE OWNED BY

BENFORD STANDLEY

contact if interested in use

Tom Hanks & more Celebs

GIRLS OF CES
Product announcements continued on Monday, January 6 with 2014 CES Press Day, featuring 25 exhibitor press conferences. Major product announcements included:

LG

-

LG G Flex – curved OLED display with world's first curved battery (6" HD display; Lifeband Touch fitness activity monitor with OLED display and Bluetooth connectivity; LG Homechat with voice-messaging/texting option to appliances.
Monster –

DNA WirelessPro Headphones – wireless, noise cancelling with controls built in; GODJ – Portable, standalone DJ device that fits in hand.
Sharp –

Aquos HD TV lineup including new Aquos Q+ with 10 million more sub pixels, built in upscaling, audio and Bluetooth streaming (first on market to play UHD content); Smart Central – App compiles all content into one search function.
Huawei -

Ascend Mate2 4G Smartphone– curved shape, 6.1 display, LTE Cat4 150mbps, Bluetooth 4.0, Quad core 1.6 Ghz processor, multi-screen tech, 4050mAh battery (two days performance), reverse charging to charge other devices, 6.1 enhanced HD (EHD), 5MP front camera and panoramic selfie.
Tarsier

– MoveEye – 3D glasses with stereo cameras that allow interaction with what's on the screen, "direct interaction."
Livio Radio

– SmartDeviceLink to standardize a way to bring apps into the dashboard of all vehicles.
DISH

– New additions to the Hopper lineup of whole-home DVR service, SuperJoey which when paired with the Hopper allows users to record up to eight shows at once and 2,000 hours of content; Wireless Joey streams content to any TV in the house.
VOXX

- Myris – Iris identifying authenticator for increased online security; 360Fly – 360 degree self-contained waterproof mountable camera; Soundboard power Plus – 5200mAH charging power plus wireless audio capabilities.
Panasonic

– Toughpad FZ-M1 7 inch rugged tablet; 4K Ultra HDTV the new "Life+Screen" AX800 series with voice activation and face recognition technology and advanced personalization; 4K Varicam – first waterproof 4K professional camera; Toughpad 4K tablet with 20-inch LCD display – first to offer 4K resolution.
Intel –

New brand RealSense – revolves around a thin, embedded 3D-sensing camera that can be embedded in desktops, laptops, tablets, etc. RealSense 3D cameras will scan objects for 3D printing.
TouchJet Pte. –

TouchJet – A precise touch enabled pico projector with a built-in Android OS that transforms any empty wall into an interactive 80 inch tablet.
Hisense –

VIDAA smart TV platform – Android powered, lets users seamlessly toggle between live TV, on demand entertainment, recorded programming, personal content, apps and more with a single touch of a button.
Formula E –

Revealed and demoed first electric racing car; Qualcomm will begin to integrate Snapdragon into the cars adding WiFi and Bluetooth.
Samsung –

105" curved UHD TV – world's first and largest curved UHD, has 11 million pixels with auto depth enhancer giving a 3D effect without glasses; Bendable TV – 85" push button Ultra HD turns from flat panel to curved; New PRO tablet series 12.2" with full size virtual keyboard.
Toyota –

North American debut of Toyota's fuel cell sedan concept with 300 mile driving range, zero-to-sixty in 10 seconds, no emissions and hydrogen tank refueling in 3-5 minutes.
MakerBot –

Replicator 3D printer series including the Mini, Replicator and Z18 with 100 micron layer resolution, full color LCD displays, app and cloud enabling with onboard camera options for print monitoring and sharing.
SKULPT –

SKUPLT device calculates body composition via electrodes sensing the difference between muscle and fat – provides exercise advice based on individual goals and progress.
Sony –

First in-home video download 4K service from Sony Pictures Entertainment; 4K Handicam; Life Log smart wear experience; Xperia Z1 compact smartphone with 20 megapixels.