THE UNDETECTABLE HOMELESS


A Weekly Cyberlog 2007
INNOVATIVE COOKING ON THE ROAD:
Part One
METHODS AND RECIPES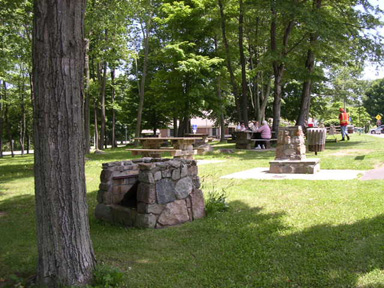 After 28 years of locating and interviewing (mostly) women who live out of RVs, trailers, trucks, cars, and SUVs, I have accumulated a variety of "camping recipes" that are not only delicious, but cooked in creative ways. The traditional BBQ of brick, stone, or steel is seen and used by the casual traveler while at one of the many Rest Areas along highways. One just dumps-in charcoal and lights a fire…and cooks anything that a grill will take. A more complicated procedure occurs when a person is living anonymously out of a vehicle (without a stove, as in some of the more expensive RVs). It's a challenge to do daily cooking and create "gourmet" recipes. A hint is the usage of a large variety of herbs….
I have been looking through my files for the many ways to cook -- from on a sandy beach to the Rest Area BBQ to right beside one's car any place where one can park and cook privately. I don't have photos of all of the innovative modes, such as the wrought iron tripods with spits that rotate or the crossed tree branches that can hold a hanging pot for soups and stews. When I began my own "adventure," I had a Polaroid, so I have a hoard of old photos which cannot be put on a computer. Further, sometimes I encounter an undetectable homeless person when my purse with digital camera is too far to fetch. I do know one thing: what was created over 30 years ago by some homeless person has been co-opted and upgraded/upscaled by someone with an expensive patent and isn't new technology at all.
I've learned that most of the people I've interviewed found their cookery materials at a town dump: pots, pans, glass, tin foil, pieces of metal, wrought iron poles, and the hammers and punches that were needed to create the cooker. Back in the '70s, I made what is now referred to and used around the world as a solar oven. Mine was created in a sandy-beach-and-ledges cove of the deserted island where I holed-up. I found everything I needed at the town dump…and a lot of the things were new, not old, dirty, and battered. If I needed to get rid of rust, I just used sandpaper and Eagle One Scratch-Off cream. There were other rust remover products to choose from as well. As for cookers, today it is not impossible to find a good Weber grill and smoker in either the town dump or at a yard sale. Especially at sale-times, they are cheap enough for everyone to buy at WalMart or other "wholesale" stores. Those are very popular with the undetectable homeless, for they will cook just about anything from hamburgers to a pot roast or whole chicken and vegetables.
I have chosen a few recent stories and will present some recipes along with the reason why the person is among the undetectable homeless subculture. My photos were taken intermittently as I traveled, and some still have to be altered that were taken in Nikon movie-mode by accident.
Remember that …means that I've just interrupted/left out parts of sentences and ….means that I've skipped (perhaps) lots of interview material.
Let's begin with Connie's story and recipes:
"…living in a big local mall, a really good spread-out library, a grocery store that seems to be as long as a football field, and a WalMart that is nearby….I'll show you where I sleep and keep my belongings. It's a spiffy-looking converted van, and I think that the silver color makes it look newer than it is. I wax it constantly because of the weather changes that can make it rusty…and I know that a clean car makes a good impression….

I haven't stayed in one area for too long since I follow the seasons to stay warm, but I've come to like this region. [It's in the eastern part of PA.] It has what I like, and I've found good places to hide my van so I sleep feeling safe….

I even found a church that doesn't try to force religion on me, and every Sunday there is good food and friends to talk to….I've met two ladies who are empty-nesters, so we play cards and bingo together and go to the cheap matinees, and I found I can bowl pretty good. We swim at the Y and I can shower there at least once a week….When I was asked where I live, I just say that I sold my condo in FL when my husband died and have been traveling around the country to relatives' homes until I find a place where I want to buy again. Of course it isn't true, but who wants to hear that I was on the radio for lots of years as a yakkitty-yak consumer advocate and was fired when the station merged with a larger one -- and because I was over 50, they hired a kid with no experience for peanuts? So, I lived on what I had saved and went through that and now I get Social Security and that isn't enough to rent an apt. and pay utilities and all of the other necessities that we take for granted….I have tried temp jobs but they take so much out of my paycheck that I can't even make a profit….

I love food and cooking was a problem until I discovered that I don't need a kitchen. There are a couple of parks near here where I can use a good grill and make almost everything that I like. Yesterday I made a stew of chunky sirloin bits with all kinds of veggies and I got two meals out of it. I found that Worcestershire sauce makes it more tasty. And, I use rosemary in almost all meat recipes. I bought a price-off day-old French loaf that was perfect dipped in the stew juices. Tonight I'll just make a baked potato [she makes cuts in the potato and wraps it in tin foil] and my own recipe for hamburgers but with ground turkey. I like my turkeyburger patty mixed with peas, green onions, and mesquite and bacon pieces as flavoring…and I add sherry to the patties. I use a bit of cornmeal to stiffen the mixture so the burger doesn't fall through the grids. Then I'll add sharp cheddar and lettuce and tomato and warmed onion rolls….It's good weather now, but in the winter, I use a couple of kerosene cookers and I have a terrific old fondue pot. I love to dip veggies and breads into the cheeses that I mix. I add avocado whenever it's on sale. Solid soups and stews take longer, but aside from sandwiches, they take me through any part of a winter that I'm stuck in very cold weather…and that hasn't been but twice in my 6 years of traveling….I'll make my own version of pizza in a couple of days when Boboli goes on sale. I'll use the smoker top to bake it some and then take the top off and let it get a charcoal flavor…."


When I buy vegetables and fruits from a grocery store, I look through the ads for sales, and when I get food into the van, I go to a mall bathroom that has a locked stall where I can wash them well, scrape and peel, and dry with paper towels. I put it all in either tin foil or baggies and store in a cooler in the van. I found that keeping some veggies a bit wet last longer, like lettuce, but most need to be dry, so I just do trial and error…."
Roy has begun restoring an old boat and cooking on deck in good weather. He usually has some kind of fish. He has been lucky enough to find a widowed female friend who invites him for dinner during the winter, so he brings her presents that he makes out of driftwood, pine combs, dried flowers and dried corn cobs in return. She then takes them to church affairs and sells them along with her famous cheesecakes. Roy says "It takes two."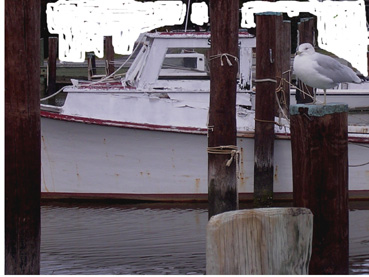 "I retired at 60, thinking that I'd use my Golden Years having some fun. My wife had died a couple of years before and I didn't want to marry again. Too much sorrow to go through again 'if'….I had a good pension plan but these days we wake up to find they're gone. It happened to me….I worked part-time in a management position last year but it was depressing. I got on disability 'cuz of bad knees, and I'll just live on Social Security soon. I'll make it work. I'm gonna fix up this boat and see the world [he smiled] around here from the water….

You want to know what I cook? I'm a gourmet chef! Tonight I'm having grilled codfish with lemon, orange, and lime juice and long zucchini slices covered with grated fontina cheese. I'll mash potatoes and add onion curls in tin foil until they're hot, and then I like to splash Mexican hot sauce over it all….I'll use my double cast iron grated grill tonight so that I can keep two different temperatures. For dessert, I'll make pound cake slices layered with canned peaches and topped with hot caramel sauce….

If I get the chance, I'll get this boat fixed up enough to scout the rivers and find a permanent place to live. I'd like to be a Boat-Snowbird, and that's my goal…." Maybe I could become a real chef someplace where I can live on a bigger boat and do some traveling – even if I have to do it alone. I can make friends if I want to, but for now I'm just doing it day-to-day…."
THIS IS PART 1 OF A 2-PARTER! NEXT COME TWO LADIES WHO HAVE MADE COOKING THEIR NEW BUSINESS…FROM THEIR RVs! Marjorie Bard
IF YOU ARE INTERESTED IN THIS TOPIC, PLEASE EMAIL ME…. (islandr@goeaston.net)
INNOVATIVE COOKING ON THE ROAD: