THE UNDETECTABLE HOMELESS

A Weekly Cyberlog
I love ducks. Every spring, summer, and fall, ducks live in and out of the pools of standing water around
my house. And each year the same mallard appears alone and is shunned by all of the other ducks that
wander around constantly. He tries to make friends, but not only do the other ducks run from him, he is
the only male without a female companion. I know it's the same shunned duck because he has a peculiar
flaw on a wing which distinguishes him from all others. He's a mellow fellow; he walks right up to me
and "asks" for food. Naturally, I supply it. Mainly in the form of marbled rye and pumpernickel bread.
I've noticed that he is particularly pleased when it has some chopped liver left on it. He quietly squawks
a "thank you" and waddles back to a pool and just sits and stares at my house. Obviously, he must have
something "wrong" pertaining to odor; I seriously doubt if ducks care about personality. An "into-crystals"
(etc.) friend insists that he is really my deceased ex-husband who tried to get me to return to him for years
after we separated. It's as good a suggestion as any, I suppose. But a shunned duck? Shunned I
understand, but I like ducks.
I summer-route myself as often as possible to the Public Gardens in Boston, for their ducks swim alongside
the unique Swan Boats on the lovely lake and troll those edges for visitor feedings. As a child growing up
in Brookline, my mother took my sister and me on the trolley to the Public Gardens every week, and my
job was to make sure that my younger sister didn't walk right into the lake to be with the ducks. (I still
have photos that someone took of my mother holding me holding onto my sister as she leaned into the lake.
Odd; I can't find the photo I took of the oil well that is on Beverly Hills High School's football field–and
that was only 7 years ago. An East Coast friend didn't believe me....) For the last few years, I have had
another purpose in visiting the Gardens and Common: empty-nesters (no pun intended) and undetectable
homeless women (as well as men who can achieve daytime anonymity) can live there, no one noticing the
consistency of their sitting, walking, and eating in the many acres. The variety of plantings, sculptures,
water fountains, aged weeping willows and other huge trees which are so numerous that they touch each
other around the lake make it an ideal area for relaxation, contemplation, and creativity. It is a place that
makes the hottest summer day bearable–and pleasurable. Last year I met two undetectable homeless
women there, and this year I shared a bench and lunch with Patricia, a lovely red-haired lady who told me
why she is alone, living out of her car, and spends so much time in the Gardens. She has strategized a way
of life for herself that is not just agreeable, but extremely viable to meet her needs and desires. In addition,
Patricia brought forth a common misconception about Social Security benefits, and I will explain the
facts after her story:



"We had a good life–Ben and me– until he got cancer and, well, everything went to hell and back...mainly
the bills, you know; we couldn't keep up with them. We had series tickets, you know, like the opera and
BSO–and those were the last precious things that I had to let go....So, when he died 6 years ago, I sold the
house, moved into a cheap apartment–which sure isn't cheap nowadays!–and then I figured out that I only
had about 3 years of living money before I was absolutely broke. Our only child died years ago, and since
he was disabled since an accident at 6, I had to stay at home and take care of him. So, I never had a job,
and at my age, any skills I have aren't wanted in today's world. It's a fact that I could barely make the rent
and pay for all of my necessary bills....I never had much to do with churches, but they did offer some friend-
ship and free food opportunities, so I attended a couple of churches for about a year. I met a nice man...
and eventually he proposed. I admit that I didn't really love him, but he was a good companion for 2 years
and then he died. A heart attack. I'm embarrassed to say that the part that hurt the most was that I had an
$840 Social Security check from Ben's benefits, and Tom's check is only $650....My lease was about to
be up and I knew I couldn't afford to stay there. I sold my furniture, lots of clothing, 2 paintings that I had
inherited, and kitchen stuff, and moved the things I just had to have, personal things, into my station wagon.
I wasn't thinking good then; I was sort of in a panic. I drove to the reservoir and parked and fell asleep.
My driver's seat goes back, so it wasn't too uncomfortable. But when I woke up, where was a bathroom?
In a restaurant ...where I washed and fixed myself up....I got by OK but I missed my few friends and really,
there wasn't one I could impose on. They all had family problems of their own....I was lonely. No one
wanted to hear about my living out of a car....I started going back to church--to Sunday services where
they offered a social hour afterward. You know, free food and people to talk to. Then one day I realized
that I had walked right into a wedding reception that was outdoors and so crowded that no one was paying
attention to who was who. I had a nice dress on–you know, just by accident–so I didn't stand out. I ate
all afternoon and jammed things that would keep into my purse and a Filene's bag. I began to read the
newspapers at the library, and noted all of the big receptions being held–like for weddings, and funerals, and
even for art gallery openings and special events....I've had enough free food to save up for a ticket to the BSO
once in a while, and even went to the theatre last year. Oh; did I tell you that I get $650 from Tom's Social
Security every month?....So, I don't have enough money to stay in Boston in a building anymore, but I've
found out how to stay where I want to and I've just adjusted to sleeping in my station wagon. Now that–
parking–in Boston is a bitch, but my brain isn't addled yet. I can park way up in Brookline and take the line
down to the Gardens, but that takes too much time–and I want to be able to get there early and come back
late. A problem is finding a decent bathroom during the day. I won't go underground....I walked up and
down the few streets next to the Gardens and looked at all of the names on the mailboxes inside the front doors.
[They are old connected "row houses."] The residents have parking permits, and I was searching for some
old person who had a car but didn't need it. It just didn't seem to work out, and then I stopped to talk to a
teenager who I kept seeing taking groceries into one building and then he'd get into a car, start it up, let it run
for a bit, and then leave. He told me about a lady who didn't want to give up her car–she needs it to visit her
sister in Lexington now and then–and I made a barter with her. I parked her car way up in Brookline where
it is safe, and brought mine down to her parking place. Now, when she needs to go anywhere, I take her,
and we've become friends, well, sort of. I also do her shopping, and that saves her money what with the
delivery costs. And I can choose just the right fruits and vegetables for her since when the store employees
chose them, they weren't the best. You know?....I don't know how long I can do this, but until I get a better
idea, this [she waved at the Gardens] is how I choose to live. The ducks and swans just make me feel happy,
and I can walk around, sit for hours anywhere, read and eat sandwiches, and no one suspects that I'm
homeless....I've been writing poetry–do you know Haiku? I hope to have some published and that's some
extra money. I hope....The winters bring a different kind of problem, but I made a deal with the lady's sister
in Lexington to stay in the tiny room above her garage and I do her shopping and take her to her doctor's
appointments. She's crippled, so I'm doing a barter again. Guess what? I'll just bet that if the IRS heard
about this, they'd make me pay taxes for bartering...." (Patricia, age 64, 2004 in Boston, MA)
The problems associated with Social Security benefits and who is entitled/eligible and who isn't has become
quite an issue. Women just don't know enough about the system. I have always carried a dog-eared copy
of the tome that attempts (I use the word attempts since some clauses contradict others) to define the various
situations, but there is one topic that is clear: if a wife has benefits from one husband and then remarries, she
may return to the first benefit package if the second husband dies. Patricia was very happy to hear that all
she needs to do is call the Social Security office, explain, and she will be getting Ben's benefit check again.
It won't make much of a difference in her life in that as the cost of living keeps going up, she will just have
a bit more money in which to remain in poverty....
And that reminds me of my favorite pet peeve: if a woman stays home to raise children instead of pursuing
an outside career, she has no salary and no future benefits of her own. Are you listening, Schaffley and the
Eagle Foundation? If she was working in someone else's home, she would receive a weekly paycheck and
have savings....


One of the main self-sufficiency sources of income is the ongoing popularity of being "an antiques dealer."
By that, some people really mean doing "flea markets," and those consist of much less expensive items.
By contrast, the several flea markets at Brimfield, MA during the long summer season have both antiques
and collectibles: a really mixed bag of items. Something for everyone, as they say. It all began in the 1970s
with one family using several acres of fields for dealers to set up tables, some in tents, in a very isolated area
near Sturbridge, MA. Several years later, there are multiple owners and many more acres of open fields
for set ups. While there is still some open space (forests and a lake) between Sturbridge and Brimfield,
during the summer, one will find people putting up tents or just opening the back of their trucks by the side
of the country road. Almost all of the few houses and buildings along the way have "antiques for sale" signs.
I have known several women who have taken advantage of this summer business opportunity and at least
three have moved on to become actual antiques dealers with a circuit of shows that assures a continued
buy-and-sell income. Most have RVs or trucks and most live in them. Pam and Doug are good examples
of summer Brimfielders–but with a twist! I met them when I stopped to see their wares right after a show.
They were packing up and there sat a duck....



DOUG: "We each started doing one show a year and after two seasons, we had gotten to know one another
and decided to team up and save entry money. And then, of course, we could hit at least two shows at a
time. Now, when summer is over, we just pack up everything in her trailer and I tow with my truck to Florida
where there are more of these big fleas....I had a boring plant job in Hartford and Pam was a dental assistant
in Springfield who hated to look at open mouths. Neither of us were happy....We weren't making decent
salaries anyway, so there wasn't anything to look forward to."
PAM: The important thing is that we can enter other fleas as we head south, kinda like just driving along and
watching for signs and reading major newspapers when we stop for food. We can tailgate those and make
some real money...And, we took to each other quickly, so it's nice to have a partner. [She winked at me.]
The rent is so high here in season that we couldn't pay for two places anyway. We kept hearing stories about..."
DOUG: "You won't believe this, but it turned out to be true. We went to see if the nudist camp really existed!
And was that ever embarrassing. Pam looks real good for her age [he laughed] but I'm, uh, a bit, uh, chubby.
And everyone does look!"
PAM:[She laughed and rubbed his ample belly.] "We got through the formalities and found that it was really
cheap in comparison to any rental."
DOUG: "And we certainly don't have to buy any new clothes for awhile! Our old duds do just fine for the
summer season. If I ever hit bankruptcy, I know how to survive–at least in hot weather. I wonder what they
do in the winters here?" [He looked at Pam, but she had no answer.]
PAM: "You've figured that we aren't married. Who would care these days? Especially with people around
50....But if you take the time to look around at the dealers, most of the couples are gay now anyway–both
males and females--and no one gives a hoot. A lot of weirdos as well. All people want is a good deal on
merchandise...."
DOUG: "We think we've got the self-employment problem licked, and now we just have to make sure we
buy as well as we sell. Everything depends on the dealers. It's them that buys mostly–from each other.
When you think you've got a hot customer who can't spot a repro, you find out real quick that he wants
a dealer's price. I really wonder if there's anyone at these things who isn't in the business or is an insane
collector...." (Doug and Pam, ages about 50, in the Brimfield area, 2004 in MA)



I have NO idea if this is the nudist camp sign. I saw it a few miles away as I left the area and guessed
this might be "it." Nothing was in sight except for forests and a dirt road that led into the woods. I've
obliterated the name just in case this isn't a nudist camp!

As I traveled the back roads adjacent to a highway, I saw a handmade sign that announced a major
antiques show was to begin the next day in a nearby city. It was early afternoon, so I headed back to the
highway and found the site. Trucks were being unloaded, and no other vehicles were allowed into the
docking area. I parked a block away and wandered over to see what types of merchandise would be sold
that weekend. I watched for a bit and then I noticed two men that I've seen before at very good shows.
They were carrying a carton from a big truck, and I got the notion from their behavior that this merchandise
belonged to both, not as separate dealers using different booths. I've never really met them, but I remember
that they were dealing independently. My snoopy mood prevailed and I walked over to the truck. It was
almost emptied of merchandise by that time, and in the very rear of the truck–up by the cab–I could see a
mattress with blankets, bedspread and pillows, and two chairs, a table, and a wardrobe. It was obvious
that these were not merchandise, but their living quarters. When they returned, I introduced myself by my
old dealer's name and asked how the shows were doing these days.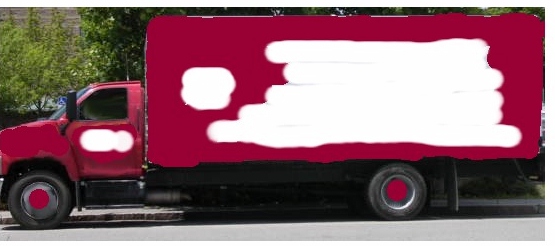 ANDY: "Business is just as good as in the '70s, but there isn't the quality anymore, not in quantity, anyway.
Collectors pay a fortune for really fine antiques, but we do the middle ground. We couldn't do the New
York shows, but we've gotten into several shows a year and we just travel from place to place."
I asked whether they were now partners, since I recalled them as single dealers.
SAM: "We were solo acts for years before we accidently met at a gay bar and found that we should be
working together. We have a lot in common, and it made sense to combine our merchandise. We can
buy more expensive items now and our booth looks just great instead of just 'good.' Much bigger and that
gives the customers the feeling that we have better and snazzier antiques...."
ANDY: It's more than that. We each have a specialty, and now as we put them together, it looks terrific!
I specialize in antique fishing gear and related water-hunting items, and when I put my decoys on his 19th
Century furniture, it draws a lot of attention. We really lost a lot of years by trying to deal separately.
Business isn't that good; we were strapped for money and trying to buy up and couldn't afford to. We
needed to upgrade if we were to make any money. Lots of expenses, too, by working alone."
SAM: "We've been able to live together, too, and that saves on motels. [He pointed to the truck.] We can
sleep in there and save a couple of hundred dollars a night while the other dealers who don't live out of their
trucks pay for hotels. What a waste of money for a bed and toilet! It's no picnic in the hot months, but
we've got batteried fans and a cooler....One of our friends blasted some holes in the top for air, and we
made plastic curtains to keep out rain or snow...."
ANDY: "Now the toilet thing is a problem sometimes in the middle of the night. But we finally bought a
portable toilet. Now we just pay for the batteries for the TV, radio, and flashlights. We try to make it all
a game, so we're happy....And of course we bring back food left over from the dealers' tray at the show,
so we have late tea and tarts [They both laughed.) or sometimes sandwiches on our special china that we
found at a flea market."
SAM: "This is as good a life as I could find now, and it's a good thing we had backgrounds individually,
because everyone wants to be in shows. Now there are long waiting lists for almost every show."
(Andy and Sam, late 50s, 2004 in CT.)
I asked if they had any duck decoys that I could see and both said, almost in unison, that no one was allowed
inside the hall that day unless a dealer. I should come back tomorrow when the show opened to the public
and see their booth. As I was trying to make another 40 miles that day for my next stop, I couldn't stick
around to see their booth. But I would have liked to have seen their collection of duck decoys!
CLICK ON THE NEXT CYBERLOG FOR THE BEST TOWN
TO LIVE IN IF YOU ARE HOMELESS!

islandr@goeaston.net
© 2003- 04 Marjorie Bard. All Rights Reserved.
This can in no way be copied or distributed.