In the middle of difficulty lies opportunity.
dein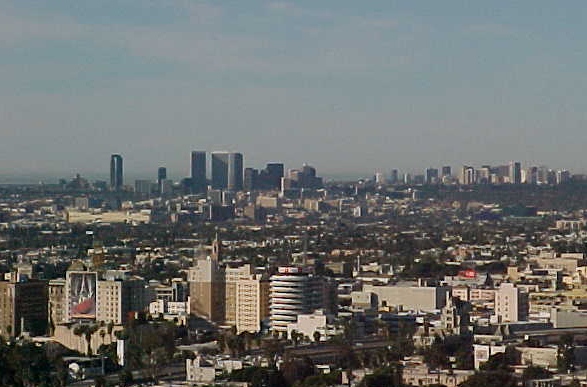 d
So I am just trying to keep my wits about me while I find myself away from my kids and
still in a certain state of shock from my wife having her affairs and taking off with the kids,
much less still living under the fear of the men in Texas that run with the Mafia, and that I
know want to get my ass in a Cleburne jail and beat my head in. Living and traveling all
over La La Land without a car takes its toll on me. Just standing on the streets corners of
LA is a scary trip. It is more scary of the times I spent in Central American in countries that
were in full blown revolutions. I swear I should be the MTA poster boy. I have no doubt
I have been on the LA bus system more than any white boy in the city. Hey, not totally
down on it...sure got some reading done. And met some characters.

Just don't tell anyone that I don't have a BMW and I use the MTA.

Welper as luck would have it my pal Chris has to move out of the office and looks like I
have to pack up. We work out that I can come and live in his garage in Highland Park
area of LA. His mom cooks some great meals and I work in their yard. Below is a pic
of my homey Chris on the right in the yellow shirt and a couple of ladies we are having fun
with one night.
We're talking garage office here

"I've never been poor, only broke. Being poor is a frame
of mind. Being broke is only a temporary situation."


Jude and some party times with the gals
In my depression I think it is time to go deeper into the depression and try and find what is this
dark hole that I live in. Dollar store wine and maybe I need to 420 I think my god, how can I
go through his depression and the deep missing of my children and not somehow find a release.
After being told by many of the lawyers that I met with concerning my TEXAS SAGA, I take
their advice and think that it is time for me to write my book about the GOOD OLE BOYS that
had me and jail and want to kill me. I get me a Hollywood psychiatrist to give me some of the
drugs that the movie stars like. I go to two psychiatrists for a short while, the lady doctor in
Beverly Hills helps me with a gentle voice. My other doctor gives me the medicine to take
away the depression and pain that the writing of my book takes me into bleeding from my fingers.
To write it you have to...dig deep into the soul and bleed...

Let's talk of graves, of worms and epitaphs;
Make dust of our paper, and with rainy eyes
write sorrow on the bosom of the earth.
Let's choose executors, and talk of wills.
William Shakespeare
Richard II 1595
The mental and psychological damages from these wrongful charges are very seriously affecting
my personal, mental, physical, financial and most important family life is ways words can not explain.
The stress and resulting mental depression that exists in the aftermath of the death of my mother at
the hands of Jack V. Standley, and not to mention the insuing problems in my economic life and
personal life because of the way the probate on our family estate has gone and the treatment by the
Cleburne courts on these matters I feel something is very rotten. I attest that not only are my personal
and civil rights being abused, but something is very wrong with the legal and justice system that I am
a victim of.
I was already in a state of fear. My god I have been hiding and living in the streets of Los Angeles.
Living without a car or a drivers license. Had lost my family and been in a constant state of poverty
living under the rule of FEAR. Writing this story of the past decade in my life since the death of
my mother at the hands of my step father I was beginning to dig up some facts that was adding
fuel to the burning fear that had consumed my life for the past decade.
Through family and people in Cleburne I heard some stories that my stepfather was part of the
Dallas Mafia, then I hear the name Benny Binion. Through time I learn more about Binion. I'm
doing some research on him, back through time I would just hear little stories and being a rodeo
cowboy myself I had known the name Benny Binion as a gambler and a rodeo promoter in Las
Vegas.
Benny Binion was born in 1904 in Grayson County, Texas, about 60 miles north of Dallas,
Texas. As a boy, Binion was a runner boy for gamblers and took people to gambling joints,
while he would make money bootlegging. In 1928, at 23 years old, he started an illegal
lottery. By mid 1930s he was running back room poker and crap table. Story tell that in
some of the hotels where they operated he could have the crap tables broken down and
put in boxes labeled as containing hotel beds to hide them
before the cops got in the door.
ff
Binion was said to have done good during the
Depression in Dallas because there was
so much oil money there. He was called a
barbarian as well as an illiterate. He was loud,
coarse and a pompous bore and a killer.

Benny Binion arrives in Las Vegas in 1946, the
year I am born Benny Modlin in Oklahoma
City. He had been called the King Pin of crime
in dallas and did two murder wraps. Binion
was born in Texas in 1905.


sssssssssBenny Binion
By 1936 he was the top dog in Dallas and ran the bookie
and other crime businesses. Binion carried three pistols; two. 45 automatics and a .38
revolver. He was such a good shot he got the name "The Cowboy." Some say he had
killed 4 men as he moved to the top in Dallas. "Kill them dead and they won't give you no
more trouble," he would say.

His gang was called Southland Hotel Gang, in 1938 several killings were attributed to him,
he was known to have blown up a car with a nitro bomb to kill Herbert Noble and the
guy's pregnant wife was in the car when it blew up. Said there were several attempts of
these two guys trying to kill each other, one time Noble had rigged a plane with bombs and
was going to fly over Binion's house. During the gang wars of 1938 many of Binion's
rivals and a number of his allies were killed, though none were officially attributed to him.

Benny could never stand to be beaten. Said that when he would have one of his guys to kill
someone, one of his guys would dig a pit and have some lime on hand. One guy they shot
in the gut with a shotgun then threw him in the pit and while he screamed for mercy. He was
still alive when they buried him. "Show me a big shot gambler or bootlegger and I'll show
you a killer every time," he would say.

Things were getting so hot in Dallas with gang wars and killings that he was advised to get
out of dodge. When Binon left Dallas for Vegas he left a gangster named Harry Uran in
charge.'' In Vegas he invested in the Flamingo and the Desert Inn. He was will known in
what was called "Glitter Gulch." In 1951 he built the Horseshoe Club. In 1953 he went to
prison for awhile for income tax evasion--his son Jack had 25% interest in the Horseshoe
Casino.

Binion began to do something never done in Vegas. He started raising the limit on betting
that the house would accept. This made him famous in Vegas, and soon the other casinos
had to follow suit. His son told that because of this and wanting to raise the limit on Keno
some casino owners wanted to kill Binion. Over the years he kept raising the limits.

It is said that Binion was first to put carpet in a downtown casino, first to have free drinks
for the slot machine players and first to have limos to go pick up customers at the airport.
While most casinos comped the big gamblers, Binon comped the small time ones to. He
would say, If you want to get rich, make little people feel like big people." I have heard
that he first brought poker tables to vegas and he and his son brought tournament poker
to Vegas. Binion also helped bring the National Finals Rodeo to Las Vegas. He has
a statute in town of him on a horse.

This finding about Jack and his gangster connections and then I find out that the son on Binon
was killed by a man named Tabish from Missoula, Montana. I had had problems with a bald-
headed mad man named Tabish some years back in Missoula. He threatened my life once,
and I ran to the office of the Public Defender to protect me. Another time he confronted me
in a store when I was there with my daughter.


Hop on the bus gus...

"Shoot for the moon
even if you miss it you
will land among the stars."
dd

Know what I mean?


I know...we can do a show called

LIFESTYLES OF THE POOR
AND UNKNOWN


Life is an incredible opportunity
so live your dreams
D
FLASH-BACK

I am now in a better position to get some of my work done and projects moving along. I have a line
for my computer and a phone line and can get some of my irons in the fire. One of my projects is
really starting to move in the biz. I have been working for years on a film and documentary about
the life and music of Jimmie Rodgers, The Father of Country Music. I have had some interest from
Reba McEntire, the great director John Frankenheimer

Through luck and the help of a editor/publisher friend Andy, who worked in the literary world for
years, I was able to move out of the streets of Hollyweird into a $6.6 million dollar mansion down
the street from Brad Pitt and Madonna. Great neighbor-Hoods...loved the place for several months.
I lived there with an interesting guy that I was to help ghost write his book about his years in Holly-
wood as a lover and personal secretary for Jane Mansfield. A story about the behind-the-scenes
and under the sheets stories of Tinseltown, the sexual lives, mobsters, sordid studio politics, the wild
life on Sunset Boulevard and how he was right in the middle of it with some of the sex bomb shells
of Hollwyood.

I lived in the back of the house on the right hand side and had the pool

my back door...to the right is the view I had back to the north.

Building in the forefront are Hollywood and taller buildings are Century City


"The biggest risk is the risk not taken..."
d
On the right is my office while I stayed at the mansion
on a hill and it was a great rest from the streets of
la la land. I loved the view and had some great times
with friends that came to visit me. Got much work
done and felt better about my self for the months
there.


Sophia Loren and Jayne Mansfield
Loren can only look at her enormous breasts

Greg wanted to write a new book about all his affairs
in Hollywood with Rex Reed and many other movie
stars and started telling me stories about his times
with Jane Mansfield and had pictures of himself with
her that made me believe all that he told me. He
also had pictures of himself at Marylin Monroe's
funeral and with him and Liza Minnelli, who was
another of his party friends. I must say the story
that I was helping him write was very exciting. I
was working with him to go through all the pictures
he had of Jane and others and to get his book ready
a
Jane was America's reigning platinum blonde, her pub-
licity exceeded that of even Elizabeth Taylor. Mansfield
appeared on the covers of more than 500 magazines
throughout her lifetime. Her image as the new 'Queen
of Sex' was notorious not only around the nation but
also around the world. In 1960 she topped all press polls
for more words about her in print than anyone else in
the world. In fact, the worlds press awarded Jayne the
title of "World's No. 1 Sex Symbol." According to May
Mann, Mansfield's best friend of 12 years, Mansfield
pursued astrology, religious cults, was fascinated with
Satanism and the occult, and engaged in bizarre
behavior such as wandering around graveyards and
cemeteries.
Greg began to tell me stories about the death of Jane
Mansfield and how he believed it was tied to the
death of Kennedy. He told me some things that I am not sure I want to remember, and not ready to
write in this story. Told me things about Sam Brody, her lover and who was her lawyer, that died in the
crash with her. About a briefcase that disappeared. I checked out the book HOLLYWOOD BABYLON
and the Close-Up of Jayne's car in four parts on the road to New Orleans. The door panel's bloodied, a
Seagram's bottle lies by a hank of hair that is said to be the top of her head and in the foreground is her
dog. According to the police report on the accident, "the upper portion of this white female's head was
severed." Her death certificate notes a "crushed skull with avulsion (forcible separation or detachment)
of cranium and brain." One thinks of a beheading as the neck's being sliced through, causing the head to
be separated from the body. There are some wild stories about Jayne and the Church of Satan and how
she came to embrace Satanic doctrines and that she pledged membership to the Church of Satan.

"You're a high-priced lawyer! If I give you $500, will you answer two questions for me?"
"Absolutely! What's the second question?"

Had a great time living at the mansion. Story goes that Gena Davis had to move from the house cause
she could not afford it any more. I was the house boy and they had some Playboy videos shot at the
house, and photographers would rent out for shoots. So many days I could just eat the food that was
brought in from catering. I would bring down some things to my kitchen and was nice scenery with the
wild girls walking around between their shoots. Life is good, you know.

Living in the mansion on the hill I still did not have a car but had my pretty young friend Maureen
be my driver. My great little drunk driver. We go cover events for the StudioClub.com and she would
get drunk and drive me home.

During this time period I am also working on a website for Laura Huxley, who was the wife of the
great writer and mystic intellect Aldous Huxley. I would go up to her house in the Hollywood Hills
near the Hollywood sign and go into a world of time and future past. It was a very exciting and
very stimulating. Laura was very vibrant and I was working with her on her foundation concerning
children and youth in need. Children-ourInvestment.org



"Two thousand pharmacologists and bio-chemists
were subsidized. Six years later it was being
produced commercially. The perfect drug.
Euphoric, narcotic, pleasantly hallucinant. All
the advantages of Christianity and alcohol;
none of their defects. Take a holiday from reality
whenever you like, and come back without so
much as a headache or a mythology. Stability
was practically assured."

ALDOUS HUXLEY
Brave New World

uuuuuuuu

There's only one corner of the universe you can
be certain of improving, and that's your own self"
Aldous Huxley

"Maybe this world is another planet's hell."
ALDOUS HUXLEY
1894 - 1963
About one day a week I would jump on a bus and head
to Pacific Palisades where my old pal Victor Maymuses
lived. Victor had been Bob Dylan's tour manager off and
on for 30 years and worked various other jobs. It was
Victor and Bob that turned on the Beatles to POT and
Victor was there when Dylan teamed up with the Band,
did the Rolling Thunder tour and many of the other
historic times that this music icon traveled. There are
61 books written about Dylan, and in many of these
books Victor is known as, "the one who wouldn't talk."

Victor Maymudes and Bob Dylan
Victor would have me over for the day and part of the evening to help him write his book IT IS GOOD TO
LOOK BACK. I had put up a website for Victor and had also helped him with the proposal and we put
it on the Internet to get a book deal with St. Martin's Press to write this book about his years with Bob
Dylan. He ended up flying to New York and got the deal. He then wanted me to help him research
the book and be his ghost writer for the book.
I would go over and hang, he would have me a bottle of wine, some good food, or take me out to eat.
He would give me time periods to work on a time line and research the events and then we would set
and 4:20 and I would help remind him of stories about Bob Dylan that he could then have me write in
his own words for him. My God...I was going from Laura Huxley and the high intellect of those talks
to Victor and hearing things about Bob Dylan, one of the most important Icons and song writers in
history. I have pages of notes and memories from those times with Victor that I am putting in my
book KICKING UP DUST.

The meeting of two personalities is like the
contact of two chemical substances; if there
is any reaction, both are transformed.

Carl Jung


George Harrison and his friend Victor
Victor got his first guitar in 1949, hence began his musical career. Victor produced the first concerts
by Odetta. In 1955, Victor was part of the energy that became the Unicorn, which was the first
coffee house in Los Angeles. It was on Sunset Blvd., and became the place where Allan Ginsberg
and other new poets were reading their material. Victor was always around the new cutting edge
of music and in many respects was making it happen. As a producer he was helping many young
musicians make their music.
In 1957, Victor worked again with Herb Cohen to open the Cosmo Alley where the whites and
the blacks were first hanging out together. "Marlon Brando, Dennis Hopper, Odetta, Peter Fonda
and all the other 'hipsters.' Lenny Bruce was working the Cahunga Burlesque and he would come
down after work and do his own special comedy at our place," Victor once told me.
He ran with Ramblin' Jack Elliot and Woody Gutherie. It was Ramblin' Jack Elliot that took Victor
to New York and introduced him to "the kid," who was in fact Bob Dylan. Victor went on to work
with and for Mr. Dylan for two plus decades serving as tour manager and wearing many other
hats for Bob Dylan. He was tour manager for some of the biggest tours like Rolling Thunder and
when Dylan and the Band cut trails everywhere. He was at the Monterey Pop Festival, with Dylan
at the Pyramids in Europe, on the Never Ending Tour, there when Dylan posed for Andy Warhol,
he built Bob's Bus (and Neil Young's and Waylon Jenning's bus)
Victor worked with and was friends of folks like Paul McCartney, Will Geere, Johnny Cash, Al
Cooper, Aldous Huxley, William Borrows, Waylon Jennings, Hugh Romney (Wavy Gravy),
George Harrison, Tom Petty, Joan Baez, the Mamas and the Papas, the Grateful Dead, The
Beatles, The Band, Neil Young Willie Nelson, Paul Simon, Pete Seeger, Harry Dean Stanton
to just mention a few. His tales and times with Woody Gutherie, Will Geere and Ramblin' Jack
Elliott, who first introduced Victor to Bob Dylan, is the kind of story that not only movies are
made of...but are stories of what history is made of.
The man was at the beginning and an intricate part of the Bohemian scene that gave birth to artist
like Allen Ginsberg, William Borroughs, Lawrence Ferlinghetti, Gregory Corso and Gary Snyder,
then he was there when the coffee house and folk scene were born in Los Angeles and in New
York. Victor had an important story that he wanted to tell and it is sad that his words are only
in notes and now who he was is in memories.
d
Well down the road six months or so, the mansion
sold. I was worried some, but Greg and Joseph
told me not to worry that they had a $3.3 million
house up Benedict Canyon that I could live in...


Erin and Tamela

Tamala if you read this email me at studioclubnews@yahoo.com
d


Pack my boxes and move up the Canyon
Already brings back memories of Tamela. O Girl where
are you? You wild woman! That is her above with my old Deadhead buddy Erin. So Tamala took
me on some wild rides and we would set up all night talking. Have thoughts of wanting to be
Hunter Thompson again...fear and loathing in Beverly Hills...We would do the wildness and get in
the sauna...did the white lines and the pills that a hot chick in Hollywood could very easily come up
with. She would drive so fast freaked me out. Loved to go to topless bars and look at the wild
girls. When she came over she had to take off some clothes and stay on the sexual edge.
Son on another note...the house had video cameras were you could see who was at the gate. Place
was very secure from the outside. Grey Frederickson, who coproduced two of the God Father
movies owned the house. It was a PARTY PAD...so I had a few.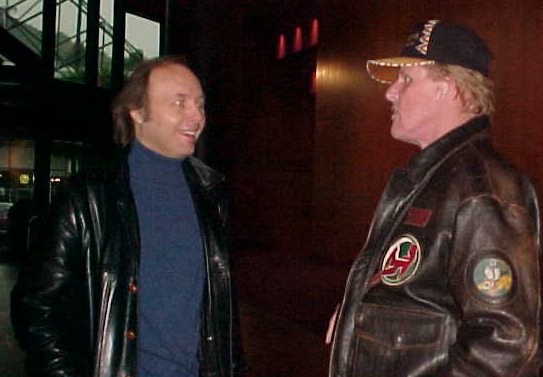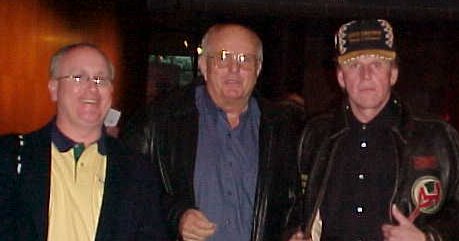 Dwight Yoakam and Gary Busey and then in blue shirt is Grey and Gary to the right. This was a fun night at the
Directors Guild where movie that Dwight had produced was being screened...
It is a Matrix....take the red pill...it only offers the truth. The pill is part of a trace program. Buckle
your seatbelt Dorthy, because Kansas is going bye-bye...want to see deeper down the well Alice?
Okay...here is the truth. Have you ever had a dream that you thought was so real. What if you
could not wake from the dream?
A surgeon, an architect an a lawyer are having a heated barroom discussion
concerning which of their professions is actually the oldest profession.

The surgeon says: "Surgery IS the oldest profession. God took a rib from
Adam to create Eve and you can't go back further than that."

The architect says: "Hold on! In fact, God was the first architect when he
created the world out of chaos in 7 days, and you can't go back any further
than THAT!"

The lawyer puffs his cigar and says: "Gentlemen, Gentlemen...
who do you think created the CHAOS??!!"

So my new hideout mansion was located on Benedict Canyon. I find out that I am just blocks away
from where some of the last Indian battles took place in the area. Benedict Canyon Road itself is the
old trail that went over the hills of Beverly to the Valley...the bridal path. Walk down the road and
at the Beverly Hills Hotel on Sunset Blvd., which at one time was a horse stable you find that the
road becomes Rodeo Drive. Now, I rode bulls and was a real cowboy in my younger days and I
don't know about the way the folks in the Hills of Beverly say R O D E O Drive.
I dig a little deeper and find that Rodeo Drive was the last street in LA that you could legally ride
and tie up your horse. The Old Beverly Hills Post Office was the general store and the park right
on Rodeo Drive and Santa Monica Blvd. is where there was a rodeo arena and the cowboys would
come down and ride, buck and rope. If you drive down the Sunset Blvd. from Beverly Hills to
Hollywood you will notice a grass strip, or pathway down the center of the 4 lanes. Welper, this
was the bridal path where people would ride their horses from Hollywood area to the Hills of
Beverly.
A HOLLYWOOD COUNTRY MUSIC SAGA
from the Hills of Beverly...that is.
Looking back into the history of Los Angeles and Beverly Hills, to be exact... one finds a
certain "western" beginning. If we might all remember the first movie shot in Hollywood was
in a barn that Cecil B. De Mille rented in 1914, at the corner of Hollywood and Vine. Shutters on
the lights are called "barn doors" till this day...the studio "lot"..."shoot" the camera..."stable" of
artists...YeeeHaw, jump in the Band Wagon and lets Barn Storm on the World Wide Web.

Once upon a time Buffalo Benford lived in a house in Beverly Hills that was built around some
horse stables. A beautiful 5 bed- room place with pool and two acres of wooded LA/Japanize
style designed landscape. There were deer running around...hawks soared through the canyon
just up a private street, not too far from The Roxy and The Rainbow on Sunset Blvd. He was
having three or more pickin' parties a week and was finding these barn dances there in the
Hills of Beverly interesting...in that the house had been a horse stable and the land a 32 acre
horse ranch back in the 30tys. Anymoo the horse ranch in Beverly Hills was owned by John
Truesdale and his wife, who's name was, yeper you guessed it...Beverly...Hence Beverly Hills.
Now you know the rest of the story...from the Hills of Beverly.

In the early days of Western Music, which would later link to the evolution of country music
was having birth here in Los Angeles with the birth of a group called The Beverly Hillbillies.
Story goes that Glen Rice, the station manager at MKPC in LA created this name and group.
In Bill Malone's COUNTRY MUSIC U.S.A. he says, "Rice used the eastern moniker Hillbillies for
the group of western musicians that he built around accordion player Leo Mannes (named
Zeke Manners) and conducted a ballyhoo campaign which alleged that a group of strange and
primitive musicians had been unearthed in the hills of Beverly. The band made its debut on
KMPC on April 6, 1930, and remained a popular feature throughout the decade. The Hillbillies
attracted several fine musicians, such a Elton Britt, who came from Arkansas in 1930, he was
famed for his sky-high yodel. Story has it that Woody Gutherie hung out with the boys in the
hills of Beverly. They are said to have "combined cowboy music with hillbilly music to create
their unique sound.

Before long Roy Rogers and the Sons of The Pioneers became king and Gene Autry would
ride out, as would The Riders of The Purple Sage, Patsy Montana, Rex Allen, Eddie Dean and
the Singing Cowboys brought Western music and Western movies to the world.

So as this Beverly Hillbilly saga continues we find in 1963, the popular television situation
comedy The Beverly Hillbillies on CBS brought us a great vision in time meets another time...
It was so big that Flatt and Scruggs' song "The Ballad of Jed Clampett" went to become
number one on the Billboard's country charts. This was a rare accomplishment for a bluegrass
song.

"This is the story how we forget to remember"
Paul Simon
Great night at the House
of Blues and get to hang
with and take some pics
of ole saddle pal Senor
Willie Nelson. Got a
great pic of him with
Ray Charles that night.

dd

| | |
| --- | --- |
| dd | |

This was a great honor to hold the mic for ole
Buck Page the founding member of the Riders
of the Purple Sage as he sings a couple of ole
Cowboy songs for a horse how in Burbank.

If there was nothing wrong in the world
there wouldn't be anything for us to do.
George Bernard Shaw
d

Buffalo Benford & Jean-Michel Cousteau

I can honestly say over the past decade I have
met some very interesting people, but I was most
moved and impressed and interested in the work
and energy of Jean-Michel Custeau. I must say
that his work in the footsteps...or should say, the
wake of his father, is so very important. I will
always remember the time we had to set and talk
about the world and the oceans. And we both
have a home we share on Roatan Island off the
coast of the Honudras in the beautiful Caribbean
Sea. However, he brough tears to my eyes.
I am going to teach you the secrets that make up the lot of a man of knowledge. You
will have to make a very deep commitment because the training is long and arduous.

A man goes to knowledge as he goes to war, wide awake, with fear, with respect,
and with absolute assurance. Going to knowledge or going to war in any other manner
is a mistake, and whoever makes it will live to regret his steps.

When a man has fulfilled those four requisites there are no mistakes for which he
will have to account; under such conditions his acts lose the blundering quality of a
fool's acts. If such a man fails, or suffers a defeat, he will have lost only a battle, and
there will be no pitiful regrets over that.
TEACHINGS OF DON JUAN

QUACK ME FOR MORE