---
Jeraldine Saunders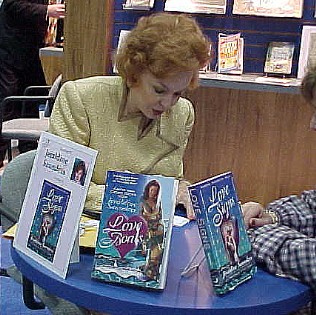 Astrologer Jeraldine Saunders is a powerful, multifaceted best-selling author whose years of astrological practice,
books and lectures have made her a worldwide success. She is listed in the World Who's Who of Women. She has
appeared on Good Morning America, Merv Griffin and more than 400 other TV and radio talk shows in the United
States, Canada, Europe and the Pacific.
To earn a living while studying astrology, Saunders modeled for the finest couturiers. After Saunders left the world
of high fashion, astrology lead her to a career in the cruise ship industry. She began her work on the high seas as a
lecturer on subjects such as astrology, motivation, and the Four Season Color Concept before moving up the ranks
as the world's first female cruise director. During this experience, she authored her autobiographical book, The
Love Boats, which was the impetus for the popular ABC television series, The Love Boat. The series has been
syndicated into more than 100 countries.
A true mystic, Saunders lectures worldwide on astrology, graphology, numerology, palmistry and face reading. With
eleven books to her credit, including Signs of Love (Llewellyn Publications), Saunders successfully conducts seminars
around the world. Originally released in 1990 as a trade paperback, Signs of Love is now enjoying a new surge in
interest since it was released in 1995 in a mass market format.
Saunders is involved in professional, charitable, civic and philanthropic activities. Some of her affiliations include
American Federation of Astrologers, Poets, Essayists and Novelist (PEN), Film Welfare League, Screen Smart Set
and the International College of Applied Nutrition.

---
click to go back to her start page
| | | | | |
| --- | --- | --- | --- | --- |
| | | | | |
Search Now: