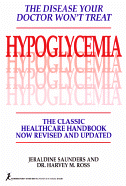 by
Jeraldine Saunders & Dr. Harvey M. Ross

"Traditional medicine is facing an upheaval as vast numbers of people across
the nation are becoming increasingly aware of its inadequacies. Fed up with
patch-and-mend medicine that treats symptoms but does little to prevent of cure
disease, people are looking for innovative and safe alternatives. Let us get to the
business of preventive medicine and healing."

Jeraldine Saunders
IF MY DOCTOR REFUSES TO RECOGNIZE THE SYMPTOMS, WHAT CAN I DO ABOUT IT?
Do you suffer from unexplained tiredness, headaches, backaches, insomnia, depression, or memory loss?
You may have hypoglycemia, a diet-related disease caused by sudden, rapid declines in levels of blood sugar.
It is an insidious illness that has been linked to such severe conditions as ulcers, asthma, allergies--even cancer
and heart attacks. Now, completely revised and updated, this landmark book that contains a revolutionary
new approach to treating hypoglycemia will help you find the vital connection between what you eat and how
you feel...physically and emotionally!
In HYPOGLYCEMIA: THE DISEASE YOUR DOCTOR WON'T TREAT, you'll find: The revolutionary
Vim and Vigor diet guaranteed to transform your life--including over 120 delicious recipes A comprehensive
guide to foods that are essentials--and those to avoid at all costs Inspiring personal success stories that reveal
the crucial link between diet, disease, and brain function Complete with proven preventative measures for
controlling and combating hypoglycemia--including how vitamins are used and abused--here is the definitive
guide to getting well...and staying well. Jeraldine Saunders is a well-known nutrition writer, worldwide lecturer,
consultant, and an active member of the Institute for the Study of Optimal Nutrition. Harvey M. Ross, M.D.,
a prominent Board Certified Psychiatrist, is a Founding Fellow and President Emeritus of the Academy of
Orthomolecular Psychiatry, Past President of the International College of Applied Nutrition, and Trustee of
The Huxley Institute of Biosocial Research.

---
click to go to Love Boats
| | | | | |
| --- | --- | --- | --- | --- |
| | | | | |
Search Now: