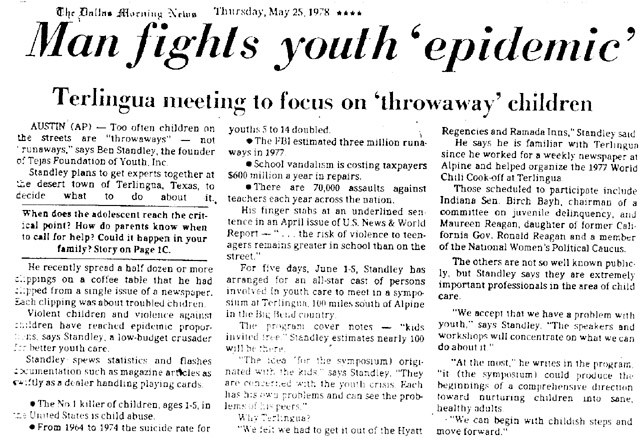 To often children on the streets are throwaways not runaways
says Benford Standley, "Violent children and violence against
children has reached epidemic proportions." Standley, a low
budget crusader for better youth care, spews statistics and
flashes documentation such as magazine articles as swiftly as
a dealer handling playing cards.
Associated Press

Senator Birch Bayh attened the Symposium even though his wife was in the hospital dieing of
cancer. I was so honored. They had special secret service check out his flight pattern from
Washington with me, because the could not even find the runway that they were going to have
to fly him on on their maps in Washington. Stored in Texas I have many of the photos from
this special week in West Texas. After the meeting I got a letter from Sen. Bayh that said,"

Dear Benford, Just a little note to think you for including me in your Symposium this past
weekend. As you know, you picked a subject near and dear to my heart, and it was my
pleasure to be abe to contirbute in some small way to your program.

Best of luck to you in your future endeavors. I believe in and support the work you are doing
with our young people and thank you for all the good things you and your organization are
doing to help guide our nation's youth. (note: Ben, I am sorry we didn't have more time
together. Birch)

As this eBook expands we want to tell more of what went on back at this meeting some
many years ago...Where people like Laura Huxley, wife of Aldous Huxley and Executive
Director of Chileren-Our Ultimate Investment came together with people like Kenneth
Wooden, who wrote the book Weeping in the Playtime of Others. There was John
Holt, who wrote How Children Fail, What Do I Do on Mondays and was the top
mind and autor at the time concered with the state of education in the country. Karl
Menninger of the world famous Menninger Foundation and Hospital sent out one of
his top people. The was the sports star James Tunney, Adah Maur from End Violence
Against the Next Generation and may others. Carolin Hogue, who ran a camping
program for runaway girls in trouble in Colorado was there, and as she and everyone
talked and met...and again, I was realizing that some of the most important people in
this Nation that are concerned about childen and youth were meeting for the first time.
Just think about this.

While living abroad for four years I began the idea to have a symposium to bring together
the top names in youth care, and to plan it as a retreat away from the city envirnonment that
most conferences and symposiums take place. The idea was drafted in costa Rica, Central
America where I was a counselor at a high school where the president and all his cabinet
sent their childrenfor a north american education. Working with these kids who had
lived all over the world, and seeing how cultured they were I began to feel new hope for
the children of the U.S.

In Late 1977, I began traveling north and stopped in Guatemala, CA for a few months where
I worte up the final plnas for the symposium.. I then traveled to Terlingua, Texas where I
started the final phase of the TEJAS SYMPOSIUM ON YOUTH. I wanted to hold the
event out side of the cities and outside of the fancy hotels that I had been in before attending
conferences of sufferage and hunger and children...while everybody stays in $100.00 a
night rooms, eats and enjoys life while we discuss the historic plagues that are hurting and
killing our youth. I wanted to go out into the wilderness and discuss this problem.

So the event was held on the Woodward Ranch outside of Alpine about 10 miles on the
highway that heads south to the Big Bend and Terlingua. We had rooms for our major
speakers at hotels in Alpine. The runaway kids camped out on the ranch and during the
days we had the meeting with our speakers and guest out on the Ranch. Here is a
description that was written in the AUSTIN SUN, by Bejou Guster a journalist that came
out to cover the conference from Austin, Texas:

Children: An Exclusive Report On The Tejas Conference On Youth and Humanity
While you read this, remember its limitations and try to see rolling open green space with dusty
Earth and rocks. A campsite on a ledge beside a creek: bans, tents of all colors, a parachute
canopy, campfires, a sheer rock cliff. All this at the foot of a mountain taht would form the
backdrop for all that happened here...When children were absent from the talks, which was often
they were usually exploring the cliffs and creek. even when they were out of sight, you could hear
them, hear their playful cries boomerang off the cliffs and blend with all else taht was said and
played (because music was a part of it).

Benford had Willis Allen Ramsey come out and sing... Willis used to live in Missoula and wrote
"Good bye to Ole Missoula" and "Muskrat Love." and other perform during the days we were
all learning about the historic problems of children. Folk also heard the music of Bobby
Bridger and Greezy Wheels.

It was a great 5 full page article that came out in the Austin Sun, that I hope to haved
added to this eBook some day soon, for the information about youth is still TRUE today
near a quarter of a century later. Tears come to my eyes as I read back over this
article now just adding a few notes about it, and I realize how very important this
gathering was for the children and youth there.

The orginal finances for the gathering came from myself and a man in Alpine, Texas. I
got a couple of local sponsors, and had 100% volunteer efforts from some good friends
in Austin, Texas and in Alpine. I put in some money, took donations and lost money to
bring the gathering reality.

If I may say, in many respects that was one of the largest gathering of it type ever getting
the great minds that are concerned with children and youth. And here is another im-
portant thing about the event. Many of these great people were meeting for the first time.
Then after the gathering many of them stayed in touch and went and gaves talks and put
the energy of their companies and projects together to do more and more for the
children that we all gathered there to help. I can't wait to tell more about this event that
is still as important now as it was then and the cause and concern...as crazy as it is to me
is worse and more children are in danger and dieing that that quarter of century ago.

Another important fact of the gathering. I had rounded up some 200 runaway kids and
had them come out to the desert and camp and be part of this Symposium.

While I was working to produce and promote the Symposium I would spend some time in
Austin, Texas. While there I would go down to the Capitol and do some lobby work for kids
and just see where the state had gone towards better care of children since I was doing my
work there back in 1993. Again, I found very little activity going on in the name of children
and youth...so I put on my clean blue jeans and a button up shirt and took my notes and would
spend a little time knocking on doors at the capitol and tell the grown men stories that made
them cry.

A letter from U.S. Senator John Towers office comes back saying, " Dear Ben,
I thoroughly enjoyed meeting and visiting with you when you stopped by Sen.
Towers Austin office last week. As you no doubt realized from our conversation,
I, too, share many of teh concerns you expressed regarding the problems facing
the youth of Texas and of the Nation...I certainly hope that you will give me a call
in order that we might set up a lunch visit in order that we can discuss the problem
and possible solutions more fully.

Also, while in Texas I was spending some time appearing before a couple of hearings
that were going on at the capitol. Here is a note from a letter from Senator Bill Meier
who was Chairman of the Senate Interim Subcommittee on Juvenile Crime. In his
letter to me he says, "Dear Mr. Standley: On behalf of the members of the subcom-
mittee, I would like to thank you for attending our hearing. we all learned a great deal
from the testimony given and we appreciate your continuing efforst to keep the com-
mittee informed...we hope that you will keep in close contact with our Committee
and provide us with any further information which you feel is pertinent to finding
workable solutions to the problems our youth are facing today. (8/1/78)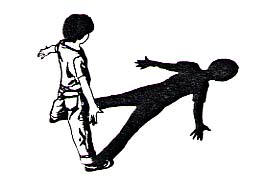 These Are Our Children
During the time I was spending more in the United States and living out on the Ranch out
in West Texas still to paranoid and not ready to join society yet I hid out in the Big Bend of West
Texas and here and there I edited a little book I called THESE ARE OUR CHILDREN. I
published and printed up a few thousand copies of the book with the help of a printer in
Austin, Texas. I really did not sell the book, it was to be put in the hands of any important person
I could find that might could help if they just knew how bad things were for children. The
book was a compulation of facts and stats on the state and fate of children in the United States
in history. Not my words...just the facts. I only compiled the sadness in a book that made
many grown men cry.

I had a company in Austin that Published (printed) two thousand copies of the book. I gave
many away to important people in the worlds of child care. I gave copies to religious leaders,
congressmen, child care workers, friends and family. I just wanted the world to know what I
knew, but not from my words...from the FACTS.
SAID ABOUT HIS BOOK
THESE ARE OUR CHILDREN
"We are confident that it will be a particular valuable resource item for professional staff
and volunteer who work with youth, and many others. Peter Ellis, Dir. of Kellogg Fd.

"A series of striking and irrefutable statements which should make its readers set
up and think." Edward Marks, Asso. Dir. UN International Year of the Child

"I think that it is very moving." Bruno Bettelheim

"I think indeed it will help." John Holt

"I very much appreciate your sharing this with me. I share your concern about our youth
and hope that we can grow in wisdom and loving concern to guide and care for the young-
sters who are our nation's future." U.S. Congressman Jim Wright, Speaker of the House
---
After the Symposium and the release of the book I left the United States again and stayed gone
pretty much the next two years. I was in and out of many of the countries or Central and South
America. During this time I met a girl in Guatemala where I hung my hats many months. This
was a American expatriot Jimmy Buffett sort of town...a lot of Americans running to and from,
many beautiful ladies from Europe. Great bars in Panachelle and it was as magic as any place
on earth I had been. Met a Tucson, USA girl there...for two years while I was spending a good
bit of time in Honduras, we would meet sometimes in Guatemala and sometimes I would go
up to Mexico and we would meet somewhere and hang in that part of the worlds for a few
weeks. We were falling in love. She wanted me to come back to the United States and live
with her in Tucson, Arizona.
I did spend a few days in New York on something that I felt that was very import. On some
flight through the U.S. I ended up in New York and followed through on something that I had
begun and felt very strongly about. In short...I wanted to have runaway, homeless and throw-
awy children.
I had talked to some in the U.S. governement about this idea and got a cold reception and a
cold dark laugh somtimes. But what I wanted the United Nations and the High Commissioner
on Refugees, and in that 1979, has been declared at "The Year of The Child," by the United
Nations...what I wanted them to do was have them declare these hundreds of thousand and into
the millions of children and youth in the streets of the United States to be declared as refugees
and this organization bring their ability to deal with masses of humans in need, in that it was
obivous to me that the United States Government was not going to do anything.
Again, as I expand this book I will tell more about these meetings and this movement I had
hoped to start. What it boiled down to was that for the United Nations to come into a country
and give them aid, they had to be invited in by the country that was going to receive the aid.
The United States was not about to admit to the world that it could not take care of its own
children, when the facts were clear that they were not and could not.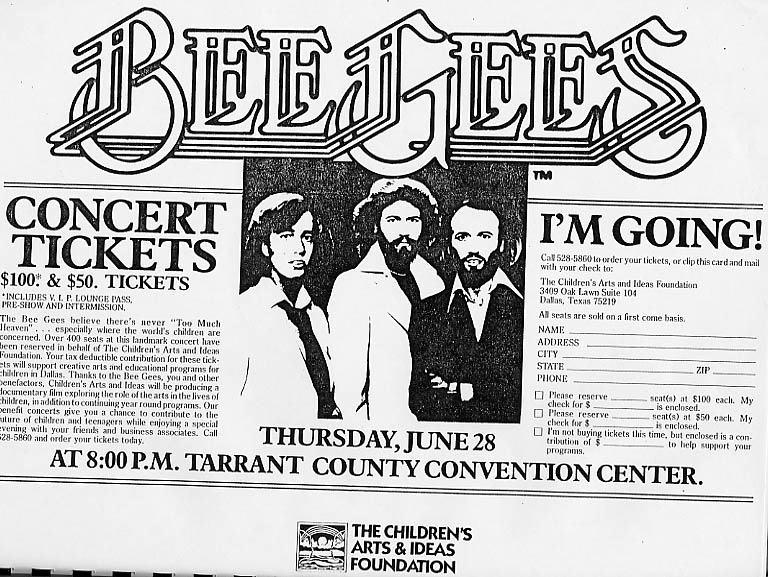 That year in 1979, the Bee Gees also did their "Stayin' Alive" tour and dedicated the tour to
the United Nations International Year of the Child. I work on a benefit in Dallas with my
friend Lynn Lenu who headed up the Childrens Arts and Ideas Foundation. Stopped by
in Dallas on my way back out of the United States for awhile. Also, went to Dallas to
help them on benefit shows with Jackson Browne and Willie Nelson. I am still friends with
Lynn and she is still living in Dallas, Texas.

© 2001-2007 Benford E. Standley
All Rights Reserved.