Benford E. Standley

His work to draw attention and help homeless, abused,

runaway, throwaway, and misplaced children and youth in America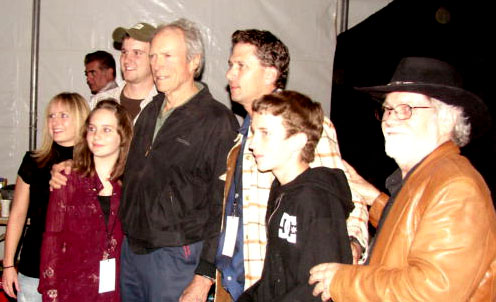 All four of Benford's kids with son in law and Clint Eastwood..
Desiree, Ashley, Allan, Clint, Lance, Robby and Benford

For the past five decades, Benford Standley has worked to better the conditions faced by
millions of homeless, runaway and missing children of our nation, working with the United States
Department of Justice, The F.B.I., The Texas Rangers, and several congressional committees
and legislators. He's written hundreds of letters and three books that speak towards the historic
abuses that fall upon our nation's children and youth. Standley has produced and been part of
several large symposiums regarding children and youth. He wrote some of the first legislation
in the state of Texas benefiting this population, and has worked with artist on two videos that

has received National awards and recognition. He was trained in psychology and worked in

one of the first clinics working with autistic children after which he did a internship with the

National Institute of Mental Health for one year working with autistic children in Austin, Texas.

In 1973, he was instrumental in bringing about state and national changes in the way children are
confined, and has since gone on to help set up several state and national programs assisting run
away children and youth. The movement he started in 1973, went into major hearings and invest-
igations by the FBI, The United States Justice Dept., the Texas House and Senate sub-commit-
tees on Mental Health, and the Governor of Texas called up the Texas Rangers to investigate the
allegations that were made by Benford Standley. He consulted with the Governor's office and

several Texas State legislators to help set up the National Runaway hotline, that is to this day run

out of the Governor's office in Texas.

At one point in his work he was flown to Dallas for a meeting with John Walsh of the TV program

"FBI Most Wanted" and with the President of Dallas Baptist University, for a face to face meeting

on the work that Benford had been doing and later they all held hands in a prayer circle while the

Rev. Billy Graham prayed for them on the speaker phone. In 1979 he traveled to New York to

meet with the High Commissioner on Refugees to see if the U.N. could offer aid to help with the

problem of millions of runaway children in the streets of America.

Over the years he's produced numerous benefits for organizations helping to stem the historic tide
that falls upon these millions of children. He co-created an award winning video about runaway
children with Michael Martin Murphey, and introduced Murphey to the Governor of Texas and the
Runaway Hotline, where Murphy became their National spokesperson. He also co-produced a
music video with Native American Robby Romero entitled "All The Missing Children," which was
written by Robby after he read Benford's manuscript SOME RAN EAST...SOME RAN WEST.
His first Internet Webcast in 1995 was a benefit for CHILDREN OF THE NIGHT, and also
produced a cybercast for them in 1998. He is also working to develop a system of ranches and
wilderness programs for children and youth in need, collecting poetry from runaway children for a
book, and finishing a manuscript for a book entitled Some Ran East...Some Ran West: They
Are All Running Around In The Cuckoo's Nest, about the state and fate of children and youth
in the United States over the past three decades.

In 2008-2013 he has produced a day of his Paso Digital Film Festival that is concerned with the

State and Fate of Children in the United States, showing films on the subjects of Child Abuse,

Autism, Runaways and other conditions that children suffer under, including keynote talks by

experts from various child care related fields. pasoroblesfilmfestival.com/
To often children on the streets are throwaways not runaways
says Benford Standley, "Violent children and violence against
children has reached epidemic proportions." Standley, a low
budget crusader for better youth care, spews statistics and
flashes documentation such as magazine articles as swiftly as
a dealer handling playing cards.
Associated Press

Standley concludes: "The children of this nation are being
beaten and psychologically battered by the hands of their
parents, as well as by the hands of the state. The wide scale
of neglect of the runaway kids of this nation is creating a
bitterness in the minds of millions of children. The scars
placed on them in these childhood years will mark a bitterness
towards a society that showed them no concern when they most
needed help."
Newsreel Magazine,
Tucson, Arizona
---
SAID ABOUT THE MOVEMENTS BENFORD STANDLEY HAS
CREATED TO HELP CHILDREN:

"I believe in and support the work you are doing with our young people and thank you
for all the good things you and your organization are doing to help guide our nation's
youth." Birch Bayh, past U.S. Senator, author of the 1974 Youth Runaway &
Act & the Eighteen Year Old Right to Vote Act.

"I certainly share your very deep concern for the children of Texas, and I pledge to
continue my efforts to offer them every protection available...again, thank you for
bringing your concerns to my attention. I hope you will continue to keep me advised
of matters of importance to you in the future." Mark White, past Governor of Texas

"Thank you for your letter informing me of the lack of legislation for homeless and
runaway youth. The press release was very informative, and I am forwarding a copy to
Sue Jane White, Director of the Governor's office on volunteer service."
Linda White, wife of Governor of Texas

"Many thanks for sending me the material you've developed on runaway and homeless

youth. Your efforts in this critically important area are to be commended...please be

assured that I will continue to do all I can to continue the federal responsibility in this

area. U.S. Congressman, Pat Williams

"Thank you very much for your constructive and helpful testimony before the committee on
Human Resources of the Texas House of Representatives in Austin last week. We're deeply
grateful for your contribution to our work...the committee solicits your continued co-
operation as we prepare our final report to the Legislature, which will include other
recommendations as well as proposals for new legislation. TX Congressman, Carlos Truan

"I hope organizations like yours will grow, because of the concern, experience or humanity
of us all. Free the Slow has done much to help change the system.
Kenneth Wooden, in his award winning book: Weepin In The Playtime of Others

"I feel that your organization and your allies have done a tremendous job in starting to
reform a very corrupt system." Len Dan Kerr, Jr.,M.D., and past head of the
Texas Department of Mental Health


---

SAID ABOUT HIS BOOK
THESE ARE OUR CHILDREN

"We are confident that it will be a particular valuable resource item for professional staff
and volunteer who work with youth, and many others. Peter Ellis, Dir. of Kellogg Fd.

"A series of striking and irrefutable statements which should make its readers set
up and think." Edward Marks, Asso. Dir. UN International Year of the Child

"I think that it is very moving and will do much to help children and youth."
Bruno Bettelheim

"I think indeed it will help children in need." John Holt

"I very much appreciate your sharing this with me. I share your concern about our youth
and hope that we can grow in wisdom and loving concern to guide and care for the young-
sters who are our nation's future." U.S. Congressman Jim Wright, Speaker of the House

---

We are putting together a book of poetry written by homeless and runaway children that we have met in
the streets. If you have a poem to submit...please send email. Soon we will be building a website for
this project with some of the poems, and asking for more to be sent to the site. The idea is to release
the book and have youth organizations sell the book to raise funds for their programs. We also plan on
developing the site to be a network resource for people working with these children in need.

Benford is also organizing the KUD Foundation for Kids, which will be a foundation to produce a "Farm
Aid/Live Aid" online benefit to give funds to groups that try and help homeless, runaway and missing
children and youth and is tying his movie on Jimmie Rodgers and his book on Merle Haggard to add

funds to this project.

He has an ongoing eBook free at: SOME RAN EAST...SOME RAN WEST: They Are All Running
Around In The Cuckoo's Nest, which deals with many of the problems that children and youth are
having in these United States. He draws off his fifty years of researching and documenting this
problem, and hopes are to develop this as a made for television project.
SOME RAN EAST...SOME RAN WEST
They're All Running Around in the Cuckoo's Nest
CHAPTERS
"TRUTH IS LIKE A TORCH...
FROM IT WE SHIELD OUR EYES
FOR FEAR OF BEING BURNED"
in the sand