1995 Benford Standley produces one of the first audio/video webcast in history...
In 1995 Standley produced one of the very first live video/audio Internet cybercast. The webcast was from
the world famous Troubadour in Hollywood. On the lineup were some classic LA acts including, The Bum
Steers, John York from the Byrds, Greg Harris of the Flying Burrito Brothers, Buck Page, founding member
of the Riders of the Purple Sage, county "hit" writer Steve Hill, producer Sid Smith (Circus of the Stars,
Bob Hope's Christmas Specials for ten years, Miss Universe Pageants) was playing the cardboard box and
some other great LA talent chartered the super informational highway.. click to see flyer from 1995
In 1997, while living back in Austin, Tx, he produced a live Internet cybercast of Willie Nelson and Kinky
Friedman and Friends, who were playing for the 100 year birthday party of Jimmie Rodgers ( Father of Country Music). The cybercast was produced in concert with Sony/Columbia Online and he produced the show on a
Bob Dylan website. The show was a Yahoo "Pick of the Week," and a pick by CitySearch.com, and was so successful that the Sony server system crashed in San Francisco. With this Standley headed to Hollywood...but nobody knew what he was talking about...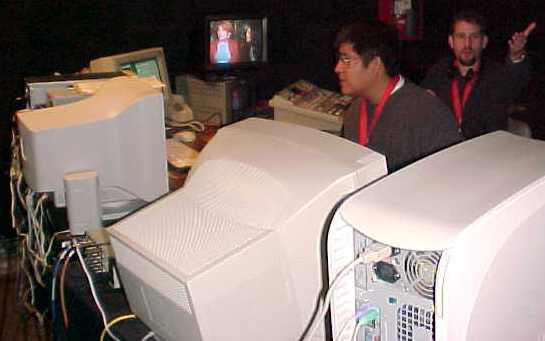 Computers in the Webcast Production room...

Benford Standley was headed down
the Super Informational Highway since 1995