TECHNOLOGY'S ROLE IN ECONOMIC DEVELOPMENT AND INNOVATIVE TECHNOLOGIES
ANCHOR DAY TWO OF THE 2009 INTERNATIONAL CES
Technology and Emerging Countries Program Features Keynotes from Intel's Craig Barrett and Cisco's John Chambers
Las Vegas, Nevada, January 10, 2009 – Technology's role in advancing economic development in emerging markets and predictions for the next big trends in technology were the focus of day two at the 2009 International CES®. Produced by the Consumer Electronics Association (CEA)®, the 2009 International CES, the world's largest tradeshow for consumer technology, runs through tomorrow in Las Vegas, Nevada.
Intel Chairman Craig Barrett delivered a keynote address on Friday, as part of the Technology and Emerging Countries Program (TEC) at CES. Prior to Barrett's address a brief video was shown, produced by CEA and W3RA, detailing an initiative which collected and recycled 150,000 computers from seven states. The video led viewers through the entire donation and recycling process that ultimately created 150 jobs in the U.S. and resulted in 56,000 refurbished computers being shipped overseas.
During his keynote, Barrett discussed a number of technology initiatives that are key in advancing economic development in emerging regions: access to inexpensive technology, connectivity and content. Barrett, joined by Adam Levin of Maroon 5 and Counting Crows' Adam Duritz, acknowledged initiatives such as Kiva.org, NetHope, Save the Children, the Greybird Foundation and Kids for Tomorrow for the work they have done to improve lives around the world through education, business development and health care.
After unveiling the third generation of the low-cost Classmate PC, Barrett announced the launch of www.SmallThingsChallenge.com, a campaign where Intel will donate five cents per click on the site toward educational access and economic development.
Following Barrett's address was the TEC panel, "Reaching the Promise of Universal Access to Technology: Creating the Global Tech Ecosystem," in which industry experts discussed the importance of technological innovation as a catalyst for advancement in developing countries. Moderated by Eric Nonacs, Managing Director for Global Affairs, Endeavour Financial Ltd., panelists Michael Fairbanks, Co-Founder, The SEVEN Fund; Kazi Islam, Chief Executive Officer, Grameen Solutions; William Kamkwamba, Inventor and Kentaro Toyama, Assistant Managing Director, Microsoft Research India, discussed ways in which current technologies and ongoing development can work to improve human and economic development worldwide. Panelists recognized that a commitment to innovation and deployment of technology remain crucial in building a sustainable infrastructure.
John Chambers, Cisco Systems CEO, delivered the closing TEC keynote address. Chambers spoke passionately about the role technology can play in companies and countries. "Speed is the answer—the fast will always beat the slow, but you need a plan for where to go." He outlined five key pillars of strength for a country—education; infrastructure; high-speed broadband to allow information to be shared; innovation and market transitions and a supportive government.
Chambers, along with Jim Grubb, chief demonstration officer, demonstrated Cisco's Health Telepresence product, which is still in development. Grubb was able to contact a doctor in Honduras who was able to take his vital statistics and deliver a diagnosis in Spanish and English, closing the divide between cultures.
Chambers and Grubb also provided demonstrations of the Linksys by Cisco Media Hub, which enables information to be managed in one place and devices to be connected to one platform, and the Linksys by Cisco Wireless Home Audio Devices, which allows consumers to enjoy their content from anywhere in their home.
Chambers stressed that the initiatives that make a great business can also build a great country. He noted that the need for citizens to be connected, share important health and educational information, and be entertained, will help to elevate emerging countries out of poverty.
Activision Publishing President and CEO Mike Griffith spoke of the growing and dynamic video game market during Friday's Industry Insider presentation. Griffith noted that the video game industry is capturing a larger share of the entertainment market by incorporating innovative story telling, social experiences and interactivity. Griffith, whose company publishes the popular Guitar Hero series, also mentioned how the convergence of video games and music has changed the music industry by spurring artist downloads and consumers' interest in playing real instruments. Video games will remain innovative and it's up to the industry to keep adapting, explained Griffith.
In Friday's International SuperSession, moderator Richard Waters, West Coast Editor, Financial Times, led a panel discussion with Ambassador Susan C. Schwab, United States Trade Representative; The Honorable Gaspar Tarte, Minister for Government Innovation, Panama; The Honorable Antonio Vega, Member, Chamber of Deputies, Mexico and The Honorable Konrad W. von Finckenstein, Chairman, Canadian Radio-television and Telecommunications Commission, focused on trade policy in the Western Hemisphere. The panelists unanimously agreed that in this current economic environment, trade is more important than ever and has the ability to lift us out of our current global crisis. Schwab encouraged members of Congress to pass the pending free trade agreements with Columbia, Panama and South Korea as part of any stimulus package. The panel stressed that countries should not let trade become a weapon and that protectionism is a threat that could harm economic growth.
Friday's SuperSession, "The Great Rewrite: How Digitization and Changing Consumer Behaviors are Revising the Entertainment Industry's Script," featured a panel discussion on data from Deloitte's "State of the Media Democracy Survey." Moderator Edward Moran, Deloitte's Director of Product Innovation, revealed survey results showing how consumers between the ages of 14 and 75 are interacting with media across five international markets: Brazil, Germany, Japan, the United Kingdom and the United States.
Industry leaders took part in the SuperSession, "Big Thinkers and Disruptive Technologies- Today's Thought Leaders, Tomorrow's Technologies," on Friday afternoon.Moderated by Tim Bajarin, President, Creative Strategies Inc., a panel of technology executives from Zoran Corporation, Sonic Solutions, SanDisk Corporation, Cisco and Ziff David Media discussed the technology trends that will revolutionize the consumer electronics industry. The panelists noted that with innovation comes economic growth, however disruptive technologies can change consumers' expectations of software, services and hardware. The panelists concluded that flash, connectivity, digital media and the cloud were the key consumer technology innovations that will change current business models.
For the latest news and developments from the 2009 International CES, visit www.CESweb.org, the source for all CES-related information.
About CEA:
The Consumer Electronics Association (CEA) is the preeminent trade association promoting growth in the $173 billion U.S. consumer electronics industry. More than 2,200 companies enjoy the benefits of CEA membership, including legislative advocacy, market research, technical training and education, industry promotion and the fostering of business and strategic relationships. CEA also sponsors and manages the International CES - Where Entertainment, Technology and Business Converge. All profits from CES are reinvested into CEA's industry services. Find CEA online at www.CE.org.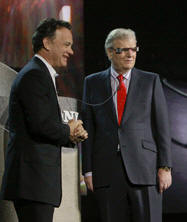 Tom Hanks and more Clebs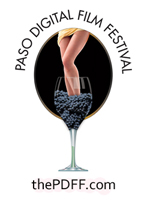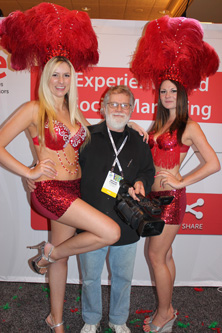 GIRLS OF CES