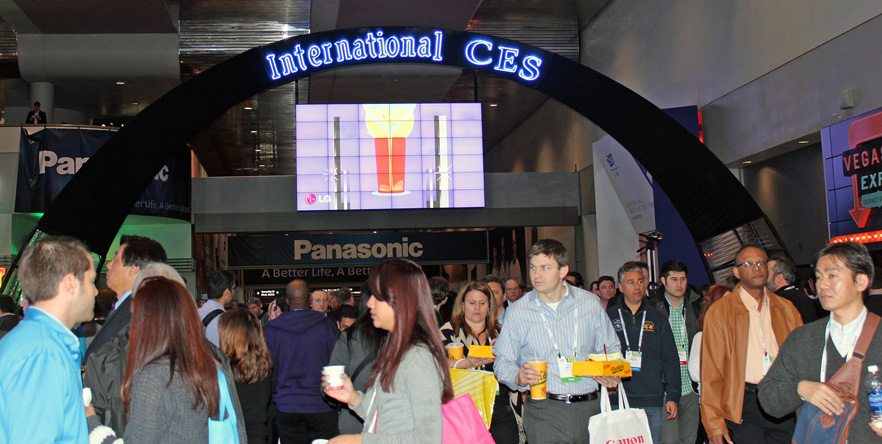 Last year the writing was on the Wall at CES...with so many from the music and entertainment business playing a roll
at the Show. This 2005 CES I had no doubt that we were seeing the next generation of Entertainment Players here
wearing the hats of technology leaders...they will now take the roll that one day the big Hollywood producers and
studios controlled entertainment...Bill Gates, Steve Jobs, Craig Barrett, Mark Cuban, Mike Dell and others are billionares.
The guys in Hollywood are cutting each others throats, jumping ship, and operating in a slime that is a business shame.
I love what David Crosby said a couple of years ago...
"I don't need a record deal, I got a website."

Bill Kreutzmann, drummer for the Grateful Dead
interviewed on Sirius Radio...another pioneer...


We were at the Gibson booth for a very special presentation
made by Gary Shapiro, CEO/president of CES...He gave
Les Paul an award for his pioneering work in fusing the
music business with electricity...tell him it was much
because of his work this Show is taking place...


Gibson brings Ike Turner to CES and he rocks it...
---
Notebook computers are out selling TVs--more people online during Prime Time than on TV--52 % of the country has broadband...
Internet cafes are seeing a huge growth...people don't have the equipment but know the technology...
Digital Cities FFI...YMAX...Xspots...go online wireless at any Starbucks, hotels and cities...

Cell phones now have more storage that the early PCs...Nano technology--go into the blood stream and repair diseases
Machines on the head of a pin...'BrainGate' implant OK'd for human testing of computer chip in brain that would linked to
computer...Flash digital-audio players smaller and more MP3 songs than iPod

LCD and Plasma...High Deff...Digital TV...Toshiba plans KD DVD launch...Direct TV showing Interactive HDTV...
---

The very talented LA singer actress
Cyrstal Simangan was in the booth
for Joeun Enterprises...

We love the models there...


HD TV and HD DVD was the order
or the day....each day and every floor
of the show we are reminded that the
new standard is HD...but, does Holly-
wood know what is in the cards?

Now that is the way to start a show...bring on the
Dallas Cheerleaders to get the crowd excited...


Jackie Chan is promoting his virtual
boxing and exercise products
Copyright © 1998-2014

Buffalo Benford Productions, LLC

StudioClub.com

ALL PHOTOS ARE OWNED

BY BENFORD STANDLEY

contact if interested in use

Tom Hanks & more Celebs

GIRLS OF CES