AMERICAN MUSIC AWARD WINNERS ARE:

Favorite Album:
Daughtry/Daughtry
ADULT CONTEMPORARY MUSIC
Favorite Artist:
Daughtry
FAVORITE BREAKTHROUGH ARTIST
Daughtry

POP OR ROCK
Favorite Male Artist:
Justin Timberlake

Favorite Female Artist:
Fergie

Favorite Band, Duo or Group:
Nickleback

COUNTRY
Favorite Male Artist:
Tim McGraw

Favorite Female Artist:
Carrie Underwood

Favorite Album:
Carrie Underwood/Some Hearts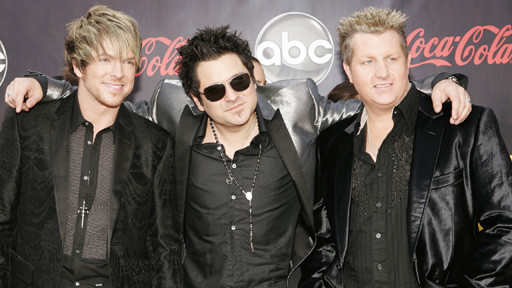 Favorite Band, Duo or Group:
Rascal Flatts

SOUL/RHYTHM & BLUES
Favorite Male Artist:
Akon

Favorite Female Artist:
Rihanna

Favorite Album:
Justin Timberlake/FutureSex/LoveSounds

RAP/HIP-HOP
Favorite Band, Duo or Group:
Favorite Band, Duo or Group:
Bone Thugs-N-Harmony

Favorite Male Artist:
T.I.

Favorite Album:
T.I./T.I. vs. T.I.P.

LATIN MUSIC
Favorite Artist:
Jennifer Lopez

ALTERNATIVE ROCK MUSIC
Favorite Artist:
Linkin Park

CONTEMPORARY INSPIRATIONAL
Favorite Artist:
Casting Crowns

SOUNDTRACKS
Favorite Album:
High School Musical 2
 

Beyonce did it with a bluegrass surprise performance with country

band Sugarland at the American Music Awards on Sunday night.

"The bluegrass version," the R&B star said backstage while watching

amonitor of Beyonce's performance of her hit "Irreplaceable" with Sugarland.

"A good thing about a good song is it can be played in any genre," she said.

"I'm up for anything. I love it." Nettles said backstage that she was nervous

singing note-for-note with Beyonce.

"We were face to face, and there were a couple times when she was looking

at me and I was blushing because I thought I was going to turn to stone in

her beauty," Nettles said. "She is so talented and so grounded."