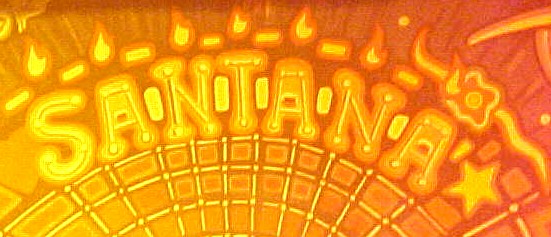 the StudioClub.com was at a Internet World Private Party with Santana

Career recognition and kudos have been legion. The Santana Band was the first to earn CBS Record's
Crystal Globe Award for sales of more than five million albums internationally. Carlos has been voted
Best Pop-Rock Guitarist multiple times in Playboy Magazine's annual Reader's Poll. He received a
1988 GRAMMY for Best Rock Instrumental Performance and was the subject of a special Recording
Academy (NARAS) tribute concert during the 1996 GRAMMY Awards, in conjunction with his
induction into the Hollywood Rock Walk. He's received ten Bay Area Music Awards, including six
Best Guitarist and three Musician Of The Year nods, and in 1997 was among the select inaugural
group-- along with Bill Graham and Jerry Garcia-- inducted into the BAMMY Hall Of Fame; that same
year, he was named Latino Music Legend of the Year by the Chicano Music Awards. In 1996,
Billboard Magazine bestowed Carlos with the Century Award, their highest honor for lifetime creative
achievement, and in 1998, he was immortalized in the entertainment world with a star on the Hollywood Walk of Fame.

SUPERNATURAL
has gone Diamond
with sales over
21 million

WOW!!!!
Carlos Santana's latest album release, Supernatural, the 36th of his career, spotlights a legendary
artist at the peak of his powers. Supernatural has sold in excess of ten million copies, and has been
officially certified 'Dectillion Platinum' – Diamond Status—by the R.I.A.A. It won nine GRAMMYs at
the 42nd Annual GRAMMY Awards in February 2000, including Album Of the Year, Best Rock
Album, and Record Of The Year and Song Of The Year for 'Smooth,' Santana's unforgettable
collaboration with alternative-rock favorite Matchbox Twenty's Rob Thomas. In 1999 anyone on the
planet with a radio couldn't help but feel the sultry groove of this Latin flavored, mid-tempo rock
masterpiece. Carlos explains that "Some songs are just like tattoos for your brain…you hear them
and they're affixed to you"—'Smooth' proved its staying power with a record 12 consecutive weeks at
#1 on Billboard's Hot 100 chart, making it the longest running #1 single of 1999.